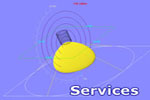 OxyTech has 2 laboratories in the world capable of producing any kind of photometric and color measurements on conventional or LED luminaires.
The laboratotries are located in:
Italy, the headquarter, with 3 goniophotometers for:
in Spain with 3 goniophotometers at Asselum SL - Grupo OxyTech
following the most advanced international standards on interior, floodlight and road luminaires for conventional lamps and LED.
We may also measure lamps and emergency luminaires.
The International Standards applied by our laboratories are:
EN 13032
EN 1838 (Emergency Luminaires)
LM-79 - LM-80
The laboratories, operating for more than 20 years and with an experience on more than 40.000 measurements, works in accordance with the ISO-9001-2008 Standard and includes, among their clients, manufacturers and public bodies from all over the world.
Please contact sales for additional purchase options.
Contact Key Photonics about this Product
Send email  |  Call +44(0)1273 245 271  |  Use the contact form