Lighting Database Management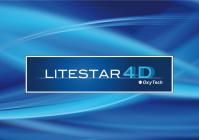 LITESTAR 4D is the system for lighting design that allows the design of interior and exterior areas (generic areas, sports areas, roads, tunnels) and the management of photometric and commercial documentation that makes the work of lighting professionals simple and efficient.
LITESTAR 4D is made up of the following modules:
Please contact sales for additional purchase options.
Contact Key Photonics about this Product
Send email  |  Call +44(0)1273 385460  |  Use the contact form
LITESTAR 4D Litecalc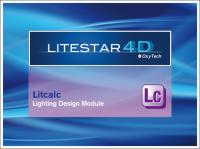 Litecalc is the lighting design module of LITESTAR 4D which integrates the following functions:
design and management of the interior area in 2D and 3D, of the exterior areas (vast areas and sport areas), roads and tunnels
import of CAD 2D (DXF) and 3D (3DS and OBJ) files
management of luminaires and furniture
management of materials with the definition of characteristics such as reflectance, transparency, specularity and roughness and the possibility of adding textures to surfaces
calculation of several lighting parameters according with the most updated International Norms and Recommendations, based on the Photon Mapping method. The calculation has been tested in numerous installations certified by important international entities
management of the calculation results with visualization of different parameters, isolevel curves (isolux or isoluminance) and pseudo colors diagrams
visualization by means of the rendering and ray-tracing module of photographic quality
printouts of project data, of calculation and graphic visualization results and renderings
saving of project data and calculation results in external files (.lpj).
LITESTAR 4D Liswin
LITESTAR 4D Liswin is the interactive electronic catalog program module which includes the functions of:
Parametric and tree product search on several levels (luminaires and lamps)
Data Update via the Internet by using the WebCatalogs with the Drag&Drop function
Parametric data and automatic update via Internet or CD-ROM/DVD
Technical data sheet production with various customizable models
Accessory documents management (certificates, instruction leaflets …)
Price list and currency management
Product and offer specifications management
LITESTAR 4D Liswin is the only program allowing:
to automatically search luminaire and lamp data among different catalogs in just a few seconds (modern means may even take several hours to search the same set of data)
the automatic data update via the Internet of your products
LITESTAR 4D WebCatalog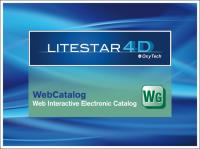 LITESTAR 4D WebCatalog is a set of tools for browsing the Internet (browser) that combines simple design with sophisticated technology to make the visualization of luminaires and lamps fast and easy in all mobile Internet devices..
LITESTAR 4D WebCatalog uses the same product database as LITESTAR 4D Litecalc, the lighting design module, and Liswin, the interactive electronic catalog, which guarantees::
extreme speed and more dynamic management and updating
extreme flexibility and ease of use
significant cost reduction.
LITESTAR 4D WebCatalog is available in the following versions:
WebCatalog Base, the browser designed for manufacturers of luminaires and lamps to display their products in a dynamic way on the Internet ( >> info )
WebCatalog Dist is an innovative browser, unique of its kind, designed for distribution companies (distributors, specialized wholesalers ... ) that wish to display on their own website the products of the manufacturers they represent through advanced management functions ( >> info )
WebCatalog mobile, the browser designed to display products such as luminaires and lamps on the latest Smartphones (I-Phone, Galaxy ...) and Tablets ( >> info )
LITESTAR 4D Photoview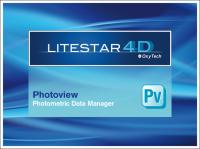 LITESTAR 4D Photoview is a powerful program for luminaire and lamp photometry management which includes the (following) functions:
visualization and printout of graphs and tables
photometric data import and export in standard formats: CEN 13032, Cibse TM14, CIE 102, Eulumdat, IESNA 86-91-95-02 and OXL, the new data interchange format in XML technology developed by OxyTech
photometry conversion from one measurement system to another: C-g to V-H (B-b) and vice versa
data import from OxyTech's and generic Goniophotometers (customized function)
manual insertion
LITESTAR 4D Photoview is available in the following configurations:
LITESTAR 4D Photoview is made according to the most updated international standards and recommendations and is developed by a team of programmers and technicians that takes advantage of the over 50,000 measurements made in our photometric and colorimetric laboratory in more than 20 years.
LITESTAR 4D Lisdat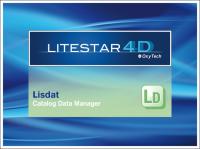 LITESTAR 4D Lisdat is a catalog data management program for luminaires and lamps that includes the below mentioned functions:
Manual insertion
Data import from MSExcel file on OxyTech base (click here to download)
LITESTAR 4D Lisdat also allows the link of photometric data in OXL OxyTech format, the new exchange format that integrates photometric data to those of luminaire 3D files.
TracePro
TracePro is a program for the design and analysis of optical systems, refractors, backlit LCDs, stray light, and in general for all systems using light as a radiant source.
TracePro is used all over the world and is known for its user friendly interface, for the full set of optical analysis features, for its inherent versatility, accuracy and the possibility of files interchangeability with many CAD systems.
Trace Pro is developed by Lambda Research Inc. di Littleton – Boston MA, partner of OxyTech, but also in cooperation with NASA for the study of the backlit panels of orbital stations.